Agistri island
Agistri is the surprise among the Saronic Gulf group of islands. It has successfully retained its traditional feel without compromising on comfort and convenience for its visitors. Although it is the smallest of the group, it is proud of the diverse activities it has to offer to holidaymakers looking for vastly different holidays. It is an ideal island to visit while being on a city trip to Athens.
Child friendly Agistri island
For families the island has a great selection of beaches, all of which are safe to swim from but which range from the shallow, sandy areas perfect for the little ones to the more adventurous areas which appeal to the more daring swimmers! Children are welcome everywhere and parents will go home having had the opportunity to truly and relax and recharge.
Relax and have fun
For friends travelling together and looking for nightlife, we may be small but we know how to party! The bars are lively with up to date music, friendly staff and great atmospheres. The island has a choice of two clubs which are open until you are ready to go home! Leave the club at 5.30 and you can grab breakfast from the bakery on the way home!
Romantic island
For those seeking a romantic getaway you will find tiny coves from which to swim in the warm sea while soaking in the spectacular views. There are hideaway restaurants to enjoy meals 'a deux' under the stars and drink in the fragrances which float around the island from the pine clad hills with its wild herbs and flowers.
Activities
Agistri is small enough to walk and for those who like activity holidays the trails in the hills are clearly marked and you will see fabulous panoramic views from the pine forest. Hire a moped or bike and tour around the island to take in the unspoilt village of Limenaria, see the private island of Aponissos and wander the winding streets of Milos / Megalochori. Go around the island by Kayak or take a one day diving or snorkeling boat trip.
Whatever holiday you looking for, Agistri is where you will find it.
Beaches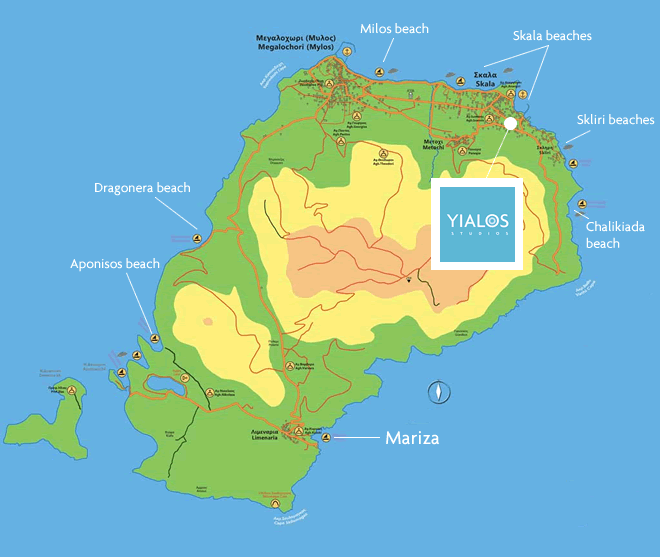 There is variety of beaches that you can visit by foot, bus, taxi, motor bike or bicycle.
Click on the pictures to see the names of the beaches